Upgrade your living comfort! Do you want curtains that close themselves? Lights that switch on automatically, or a delightfully warm house when you get home? It's all possible! Domotics, also known as home automation, offers endless possibilities and loads of comfort. Domotics is a collective name for all of the devices that can help you automate your everyday tasks. With domotics, you can make your (holiday) home or company building even smarter. For example, you can set schedules for the lights or receive an automatic alert in case of high energy usage.
We recommend opting for your own platform. That way, you are in control of everything. With our knowledge and expertise, we can advise you about the best ways to use and install said platform. You could also opt for a convenient cloud solution, and leave the management to us.
Even more comfort at home!
A smart home platform is the system you use to control your domotics. Platforms like these allow you to control all sorts of devices. Well-known platforms include Google Assistant, Amazon Alexa and Apple HomeKit. It is a good idea to purchase a platform first. This platform can then serve as a foundation for the rest of your domotics. We are happy to help you make your decision. That way, you can avoid ending up having to use multiple different apps after all.
Tip: Before you buy a product, make sure it is compatible with your platform!
Domotics communicate with one another using a protocol. A protocol refers to the way signals are transmitted between devices. This can happen via cables or via a wireless system.
Well-known protocols include Bluetooth and WiFi, but domotics can also communicate via Zigbee or Z-Wave.
Not all devices are capable of communicating with one another directly. That's where the Smart home platform comes in. This platform supports multiple protocols, making it the ideal bridge for all communication between your devices.
Benefits of smart controls
Domotics adds convenience and comfort to your (holiday) house or company building. You can control devices remotely with your own smartphone or smart home hub.
Set schedules for your devices, so that they will activate precisely when you want them to. You can decide what time the thermostat will start heating your house, or at what time of day the lights will turn on.
That way, you can efficiently manage the energy consumption of your house and avoid unnecessary costs. Opt for extra security and add special IP cameras and smart doorbells. That way, you can immediately see who is at your door, and automatically record any unwanted visitors.
A domotics house is full of products that make life easier. For example, it has devices that activate automatically or can be controlled remotely. However, there is so much more you can do with smart products.
A smart home or office offers various benefits:
More convenience and comfort
Significant energy savings
Safer living and working environment
Smart products offer extra convenience in your home. That's because you can control them with an app. You can turn up the heating from the comfort of your chair, for instance, or dim the lights in the kitchen while you're in the living room. You can even configure older devices to control them remotely. Choose convenience and comfort, and choose your platform.
Significant energy savings
One of the key benefits of smart devices is that they help you save on your energy bill. They allow you to set schedules, control them remotely or have them switch off when you leave the house. That way, your smart thermostat won't heat your house unnecessarily while you're not at home. Forgot to switch off the lights? No problem! Simply open the app and switch them off remotely.
Check the energy consumption of thermostats and outlets in the app and gain insight and control.
Safer living and working environment
There are many smart devices that help you make your home a lot safer. You'll be notified immediately in case of suspicious activity around your house or if there's a fire. Use a smart doorbell or IP cameras to be able to keep an eye remotely on what's happening at home. An alarm system will notify you in case of any burglary attempts, while smart smoke detectors will do the same in case of fire hazards. For even more safety, connect your smart lights to a camera, so that they will turn on in case of movement or if someone rings the doorbell.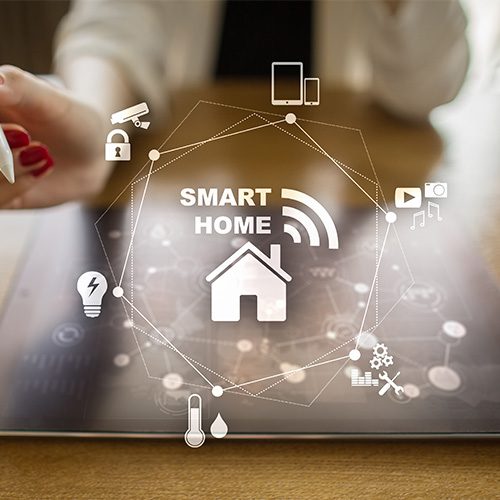 Sounds interesting?

Then please contact us!
We work with (among others) the following

premium suppliers